If you know just two things about me — and neither of those things is that I'm a vegetarian — then you know that I love the St. Louis Cardinals and that I also kinda like turtles. And so you might (rightly) assume that I was pretty excited to find out about a week and a half ago that St. Louis Cardinals outfielder Allen Craig has a pet tortoise named Torty. As it turns out, Torty has been something of a good-luck charm for the team, with the players occasionally yelling "Do it for Torty!" during Craig's at-bats. Who wouldn't want to hit important late-inning RBI doubles when a tortoise's honor is at stake?
Of course, if you want to be one of the Best Fans in Baseball™, you need to immerse yourself in the blog at Viva El Birdos. Well, maybe not. But I enjoy the site — and the people who post on it — and so the day after I learned of Torty's existence, I decided to give VEB the gift of a Photoshopped Torty: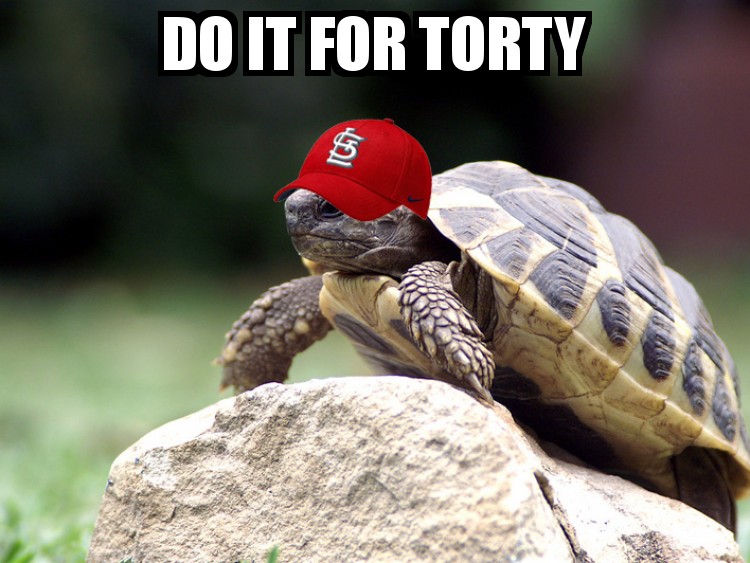 Alls I did was Google "tortoise" and then "Cardinals hat" and put the two results together. (To be fair, I had to pick a majestic-looking tortoise and a reasonably attractive cap.) And then I ran the resulting image through a lolcat generator because I'm too lazy to do my own text. I posted my Torty in that night's game thread, everybody loved it, end of story.
Wait, no.
The next day, someone — who I promise is not me — created a Twitter account for Torty with that picture as its avatar. And Torty's tweets managed to catch the attention of fans and media alike as the Cardinals fought for a playoff spot. Oh, and even third baseman David Freese.
The real Torty got a few more shout-outs on Fox Sports Midwest's broadcasts, and a couple of players got into the act with a Torty tribute after Craig hit a home run: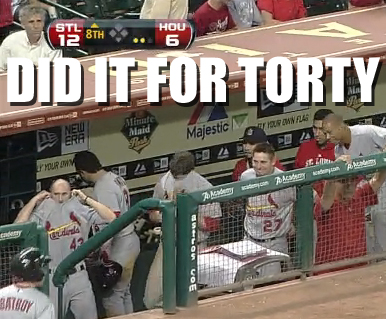 (Click for an animated GIF.)
Strangest of all, Torty became the subject of an interview with Craig while the Cards were celebrating their wild-card berth. Torty had hit the big time.
Wait, no.
Torty wasn't done yet. A segment on KSDK-TV in St. Louis about Cardinals tweets gave @TortyCraig some airtime Thursday, and apparently Torty's picture was shown later in the broadcast: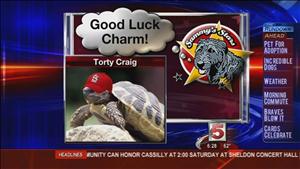 On Friday, Game 1 starter Kyle Lohse refused to divulge Torty's whereabouts (after the J.D. Drew-batteries incident years ago in Philly, I can understand the need to be protective). And Freese — wearing a Torty Craig hat — suggested that Torty might be in California. Plus some fans made Torty shirts, if you're into that sort of thing. And thus ended the saga of Torty the tortoise.
Wait, no
On Friday night, MLB.com's The Wall blog published a post about Torty's role as a Twitter celebrity and good-luck charm.
MLB.com.
Torty.
That ridiculous Photoshop I made.
I'll let Allen Craig have the last word:
"I thought it was a little weird at first that someone had a Twitter account about my pet tortoise," Craig said. "I don't really think it's a big deal, but I started reading the tweets and they're pretty funny. And everyone kind of went with it."